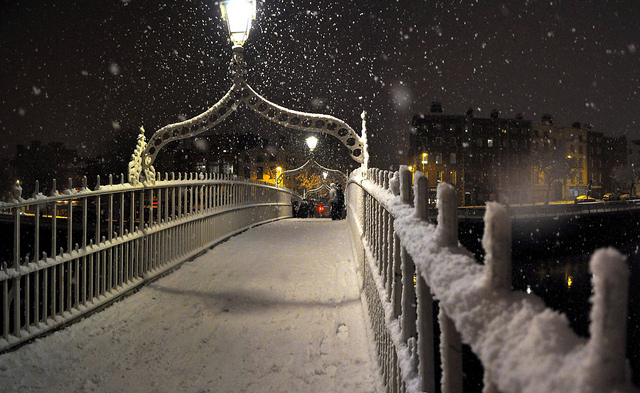 While the last number of weeks have been reasonably mild and dry, it appears winter is coming this week.  The huge storm working through Europe is due to hit us in Ireland later this week, so we need to be prepared.  We've compiled a few top tips to get your rental property ready to weather the storm.
Roof With high winds due to approach, it's worth carrying out a visual of your roof.  Roofs should be inspected regularly as this will ensure there are no loose tiles.  Loose tiles may cause damage should they become dislodged.  Any concerns should be raised with a roofer.
Gutters & Drains It's advisable to check drains and gutters in an attempt ensure there are no blockages, particularly if there are trees near the property.  If gutters and drains get blocked, water can be forced inside the property.  If this happens, water could cause a lot of damage to internal walls and ceilings.  Gutter guards can be installed on gutters to reduce build up, however, regular checking should reduce any flooding risk.
Pipes If your property has exposed external pipes which are prone to freezing, it's a good idea to leave a tap dripping very slightly.  Even a slight water flow will keep water from sitting and freezing in pipes.  If your property has external taps or exposed pipes, it's good practice to have them insulated.  If the external tap has its' own separate water supply, it is best to have it turned off and the tap drained.
Chimneys If you have an open fire in your home that you use, the chimney should be swept every year.  An annual chimney sweep will ensure there are no blockages in the chimney that could cause smoke to be pushed back into a room.
Boilers Annual services should be carried out on heating system boilers.  These services will ensure your boiler is working as efficiently as it should and could alert engineers to any potential issues that could occur before they become major problems.  Always have a carbon monoxide alarm installed in any room containing a boiler and where fossil fuels are burnt.
Have you a property that you think would suit the rental market but you're not sure where to start?  Why not contact us and our experienced team of property specialists would be happy to advise you.